March 2018 Events in Puerto Rico
March 2018 – What's Happening in Puerto Rico?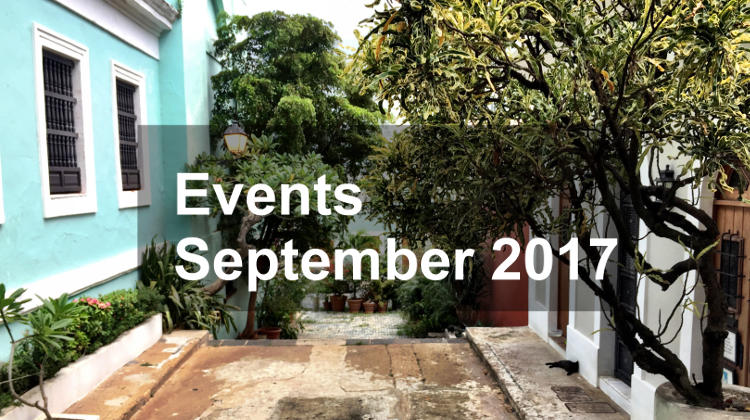 It's March 2018 and there are still a few hundred thousand people without electricity, but Puerto Rico is OPEN and tourist spots, tour operators, restaurants, hotels are all ready for you and popular events are also returning. Highlights for March include; Festival Casals. Carnaval Mabo and Circo Fest to name a few.
Until March 17, Festival Casals, San Juan
The annual Casals Festival kicks off on Feb 25 until Mar 11 with performances at various locations throughout San Juan. The event honors the classical musician Pablo Casals.
More Info: Facebook
Mar 2 -4, Carnaval Mabo, Guaynabo
Annual celebration of King Mabo that takes place in and around Tablado del Rio in Guaynabo. The festival features a parade of floats, local artisans, music, the Festival de la Patita Guisa (Pigs Feet Stew) and ends with the traditional burial of the Sardine
Mar 8 – 18, Circo Fest, Puerto Rico
Circo Fest – the International Festival of Circus and Street Arts of Puerto Rico returns this month with performnces in Old San Juan, Vieques Humacao, Yauco and San Juan.
Mar 8 & 9 there will be workshops for circus and street performers
Mar 10-11, performance at various locations in Old San Juan
Mar 14, Circo Fest, Plaza Publica, Vieques
Mar 16, Circo Fest, 6pm La Cancha de P.E.C.E.S, Humacao
Mar 17, Circo Fest, 6pm Plaza Fernando de Pacheco y Matos, Yaucoa
Mar 18, Circo Fest, 4pm MAC, Santurce, San Juan
More Info: Facebook
Also happening in March
Mar 3, El Picnic – Gastronomia, Arte, San Juan
The grounds of The Museo de Arte Contemporáneo de Puerto Rico will be hosting a family and pet friendly food, art and music event starting at 2pm. Bring a chair and enjoy the afternoon.
More Info: Facebook
Mar 16-18, Festival de la China, Las Marias
Annual town festival celebrating the sweet oranges from Las Marias, with local artisans, food kiosks, music and plenty of oranges
More Info: Facebook
Mar 16-18, Corona Pro Surf Circuit O'Neill Series, Rincon
Playa Domes will host a weekend of Pro Surfing in the latest round of the Corona Pro Surf Circuit O'Neill Series
Mar 17, Coppertone Beach Tennis Open 2018, San Juan
Eco's Sports Park in San Juan will be hosting the Coppertone Beach Tennis Open 2018 starting at 9am
Mar 23, Phil Collins in Concert, San Juan
Popular British singer, songwriter and drummer Phil Collins will be live in Puerto Rico at the Coliseo de Puerto Rico in San Juan
Note: All events are subject to change, so contact the event organizers for up to date information. Discovering Puerto Rico is not responsible for any schedule changes
Resource: PR Tourism Co, local media
March 2018 events as seen in: