Insider's Guide to Old San Juan

For anyone visiting Old San Juan; here are few tips to help you get the most out of your visit.
Driving to Old San Juan
There are 2 main roads that will take you into Old San Juan, Avenida Muñoz Rivera (RT 25) and Avenida Manuel Fernandez Juncos (RT 1)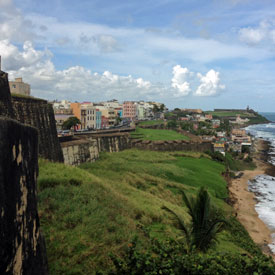 Avenida Muñoz Rivera takes you along the north coast past the Caribe Hilton and Luis Muñoz Rivera park towards San Cristobal Fort. Once at San Cristobal Fort I recommend that you turn left and head towards Calle Recinto Sur for the multi-story car parks (my preferred parking spot).
If you plan on just driving around Old San Juan then turn right instead along Calle Norzagaray. This will take you towards El Morro Fort with some great ocean views. You can then head around Plaza Centenario, and into the center of Old San Juan.
Avenida Manuel Fernandez Juncos is my preferred route (though not as scenic). This road takes you along the San Juan Bay towards Old San Juan. Stay on this road until you reach the cruise ship piers turn right at Calle Juan Antonio Coretejer and left at Paseo Cardonga. This road then leads onto Calle Recinto Sur for the multi-storey car parks
Public Transport to Old San Juan
From Isla Verde you can take the T5 or C53
From Condado you can take the 21 from Ashford Avenue or the C23 from Caklle Loiza
From Catano you can take the short ferry ride
From Hato Rey you can also take the ferry
Parking in Old San Juan
There are several parking garages around Old San Juan.
Underground parking at Plaza Centenario (near El Morro Fort)
2 Multi-storey car parks on Calle Recinto Sur (I usually park in the second one that you pass)
Open air car park close to Paseo de la Princesa
Road side parking is possible but the streets around Old San Juan are very narrow and I personally do not feel comfortable about parking my car in the street
Best Days to Visit Old San Juan
This is a difficult one, as it really depends on what you are looking to do during your visit to Old San Juan.
Weekends are the best time to go if you are looking to see what the local artisans are selling,. Weekends are also the busiest time, especially when cruise ships are in port. Having said that, I have never felt Old San Juan to be too crowded even with ships in port; the only exception to this is during the San Sebastian Street Festival.
Midweek, Old San Juan is much quieter especially if there are no cruise ships docked in port.
If you are hoping to visit one or more of the numerous museums in Old San Juan then skip Mondays, as the majority of museums are closed. Some but not all are also closed on Sundays, so phone ahead to make sure the museum that you are interested in visiting, is open
Free Old San Juan Trolley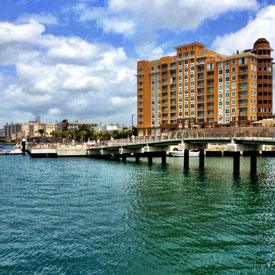 The free Old San Juan Trolley is nice in principle but:
On busy days (holidays and cruise ships in port), it can be hard to find an empty seat and you could be waiting a goiod 20-30 minutes for the next trolley
There are no organized lines at the various bus stops. You could be first in line having waited for a while and still miss out on a seat as folks tend to just jump on when a trolley arrives
My advice; if you have no mobility issues, skip the trolley and do your own walking tour of Old San Juan (especially if you have limited amount of time).
Note: If you are near El Morro Fort it is better to get the trolley from the entrance to the fort rather than the other stops on Calle Norzagaray
Things to see and do in Old San Juan
The Forts
Admission to El Morro Fort and San Cristobal Fort is $3 each.
If you plan on visiting both you can buy a combination ticket for $5 (use the $1 saving to buy some water). Combination ticket is valid for 7 days.
Open 9am – 6am (everyday), closed on Thanksgiving Day, Christmas Day and New Year's Day
Daily and weekend Ranger led tours available
Paseo de la Princesa Promenade
Paseo de la Princesa in Old San Juan is a beautiful walk that takes you along the San Juan Bay to the San Juan Gate. On weekend, holidays and when cruise ships are in port you will find artisans and musicians along the promenade
Paseo del Morro
Paseo del Morro starts at the San Juan Gate and continues along to the entrance to the San Juan Bay with El Morro's fortifications towering above you. Currently this path is a dead end, so you will have to retrace your steps back to the San Juan gate, but it is well worth the walk for some amazing views. of El Morro and the bay.
San Juan Gate
The entrance to the streets of Old San Juan and a picture postcard location.
San Juan Cathedral
The Cathedral of San Juan Bautista is one of the oldest churches in Old San Juan and is located on Cristo Street close to the El Convento Hotel.
San José Church
close to Plaza Centenario, the church is currently undergoing restoration and is occasionally open to the public. The 500 year old church has just been placed on the National Trust for Historic Preservation list of America's Most Endangered Historic Places.
Bahia Urbana
The Bahia Urbana is the new area just along from the cruise ship piers. It is a really nice place to walk and will host urban markets, concerts and more.
The Capital District
Home of the San Juan Capital District with numerous memorials and small plazas along Constitution Avenue
Try some Rum
Both the Don Q Museum and the Puerto Rico Tourism Office (close to the cruise ship piers) offer a couple of free rum samples.
Try some Puerto Rican Coffee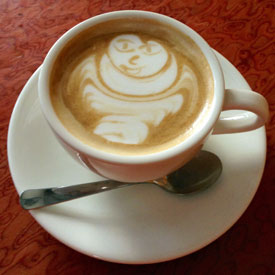 Please skip Starbucks and try some awesome Puerto Rican Coffee. There are several great local coffee shops in Old San Juan: Cuatro Sombras, Don Ruiz, Finca Cialitos, Cafecultura, Café Cola'o and The Poet's Passage.
Try Some Puerto Rican Food
There are several roadside vans located near Plaza Darsena that serve tasty Puerto Rican snacks: empanadillas, alcapurrias, bacalaitos, tripletas and more.
Numerous restaurants in Old San Juan that get great reviews on TripAdvisor: Marmalade, Carli's Fine Bistro, San Germain Bistro, Casa de Espana, Café Puerto Rico and Cafe mandolin to name a few.
Alternatives ways to Tour Old San Juan
Old San Juan Food Tour
Combine food and history of Old San Juan with a San Juan Food Tour: There are several tour companies offering great food tours around old San Juan
Water taxi tour
Seaplane tours
Catano Ferry
I know does not sound like a tour but it is really cheap and get great views of Old San Juan from the water – sunset sail tours
Segway Tour
This is just a quick guide for things to see and do in Old San Juan. If you have any favorite spots or tips you would like to share, add them to the comments below.
Have fun and remember to take lots of photographs.
By Brian
Original Source: http://www.discoveringpuertorico.com/insiders-guide-to-old-san-juan/