An (Almost) Perfect Public Beach in Condado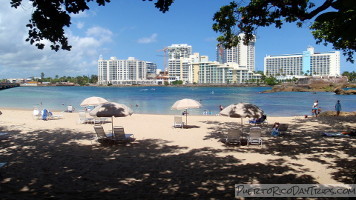 I assume most people come on vacation to an island because they want to spend time on a beach. But many tourists that come to Puerto Rico end up staying in the San Juan tourism area (Isla Verde, Ocean Park, Condado), where the beaches are nice, but not great. Some have rough waves and, toward the Condado end, some serious undertow. They can also be windy — a windsurfer's paradise — so you can get some serious dermal abrasion along with your suntan!
But the locals know about a great little calm-water beach and I will let you in on the secret … it's Playita de Condado. This small, public beach is at the western end of the Condado area, just east of the bridge on Ashford Avenue. It is protected from most of the strong winds by the hotels (though there is still a nice breeze to help keep you cool). The water is usually calm because there is a coral rock formation to break the waves. The shallow water is warm and clear. The beach is fine, golden sand. There are trees lining the back of the beach, providing lots of shady spots in the morning and early afternoon. There are life guards on duty during the day, outdoor showers for rinsing off, and there are usually vendors selling food and drinks. It is a nice beach for the whole family.
A Recent Visit
We went on a Saturday morning, got a nice spot in the shade and spent some time snorkeling. The snorkeling wasn't very good — mainly sea grass and silty corals, but there were some fish and some live corals. We saw barracuda, peacock flounder (one was on one of the artificial reefs they put in place to encourage more fish/corals), bluehead wrasse, sergeant majors, and yellow tail snappers. If you happen to have snorkel gear with you, you can go in and see what you find. But I would not rent snorkel gear just to snorkel here.
Playita de Condado is actually the beach the used by guests staying at the Condado Plaza Hilton, so their staff helps keep this beach clean. They also will rent lounge chairs to anyone for $5/day and umbrellas for $11/day. They have a Water Sports facility where you can rent snorkel gear or kayaks. I found the beach "guard" and the chair steward to be helpful in answering my questions. I am almost sure they would let you use the hotel bathrooms if you needed (and I bet a few bucks tip wouldn't hurt either!).
What's Not To Like?
It sounds almost perfect, right? Well … OK … it does have some flaws. First, the beach is small, so it could get really crowded (especially on summer weekends). But, if you go mid-day during the week, it would be less crowded.
The beach is on the street (Ashford Avenue), so there is a lot of traffic going by. Also, in my opinion, the road, bridge and construction being done in the area are ugly.
But if you sit away from the road and look only out to the ocean, it is beautiful. You just have to work around the flaws and you can really have a nice time.
There is supposed to be a life guard there (and I have seen one on other occasions), just not the Saturday in August when we went. Go figure! SO swim/snorkel are your own risk.
The Details
The beach is "open" during daylight hours.
If you're driving there, you can park in the Condado Plaza Hilton parking deck for just a couple bucks/hour. The entrance to the parking deck is near the pedestrian bridge that crosses Ashford Avenue by the hotel.
Playita del Condado is located on Ashford Avenue, between the Condado Plaza Hilton and the Ashford Avenue bridge. It's an easy taxi ride from Old San Juan and Isla Verde. If you're on a cruise ship in port for the day, grab a taxi and ask him to drop you off at the Condado Plaza hotel.
By Gwen
Original Source: http://www.puertoricodaytrips.com/condado-beach/